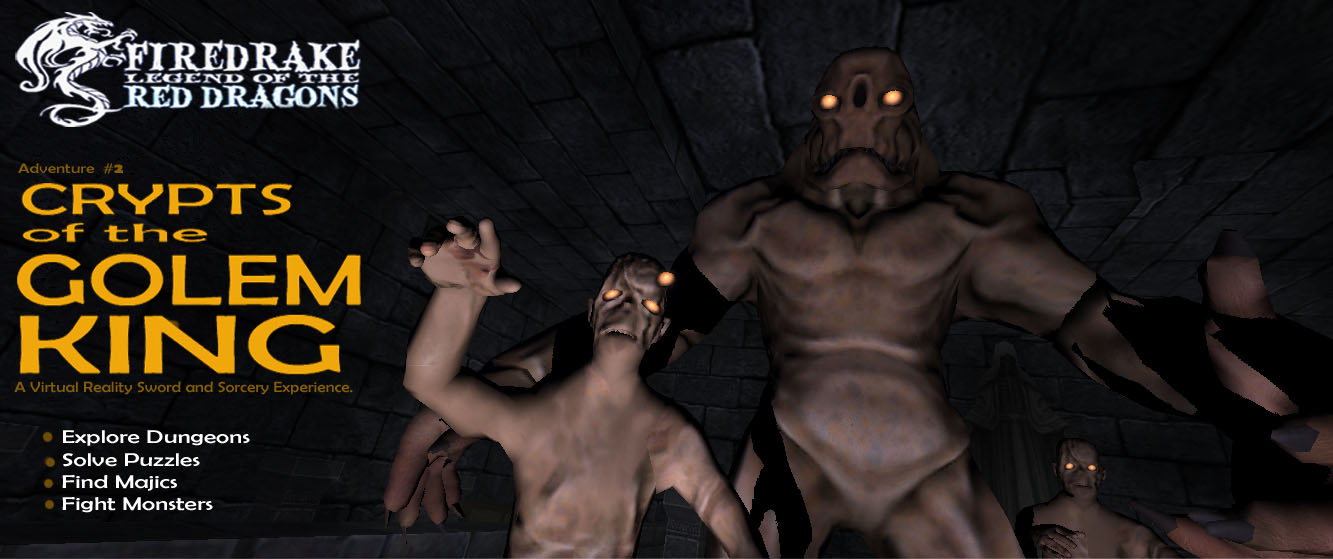 Firedrake: Crypts Of The Golem Kings
A downloadable game for Android
Notice: This is a VR only game for the Oculus Go. (Quest version coming soon!)

The Necromages of Ozmot are recruiting the dark forces of evil to find ancient and powerful artifacts scattered throughout the kingdom of Dorin.
Discover magic items and weapons and go on quests obtaining new abilities, all the while trying to uncover the sinister plot of the Necromages of Ozmot and their pursuit to exhume the long vanquished Red Dragons.
Will you brave the dark horrors of the crypt, solve it's riddles and recover the weapons and magics before the minions Of Ozmot discover them?

Firedrake: Crypt of the Golem King is a fast paced, 1st person dungeon romp for the Oculus Go. It features first person smooth movement and up close melee combat with swords, daggers, shields and mace class weapons and magical shooting staff weapons and story elements to guide you along your adventure.

Features:
Free roaming, 1st person moment.
Gaze To Move and Controller Pad Movement support.
Ranged and Melee combat.
Upgrade character with magical abilities and skills.
Playtime: 2-3 Hours
Platform: Oculus GO
Comfort: Intense
Replayability: Moderate
Best played Seated
NOTE: The Crypts Of The Golem King is an EXTREME VR EXPERIENCE.
Featuring fast paced free roaming 1st person movements, hard hitting and bloody melee combat, jump scares, 3D heights and claustrophobic environments.
It is intended for advanced VR users.
Purchase
In order to download this game you must purchase it at or above the minimum price of $3.99 USD. You will get access to the following files: